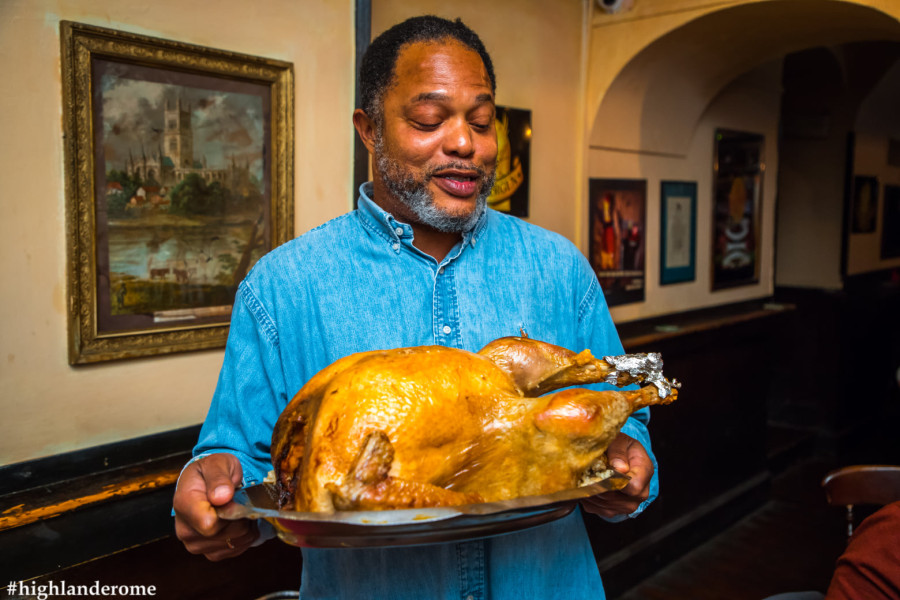 Thanksgiving Dinner & Karaoke
Our annual Thanksgiving celebrations are coming up on Thursday, November 24th. The ALL-YOU-CAN-EAT BUFFET has been SOLD OUT ! But for all of you who want to join the festivities after 8pm, get involved in our traditional Beer Pong Tournament and show some skills on the mic - you are all more than welcome! We have all the major assets for your memorable night in the heart of the Eternal City. Food, drinks, music, your favorite tunes upon request, karaoke when we get buzzed and need to bring it to the next level…. contests and games and - of course - American Football.
Upfront online reservations are strongly recommended for the dinner, generally the seating for the dinner are sold out long before that start of the event! Otherwise, the access to the bar after the end of the buffet dinner (after 8pm) is free.
The dinner will be served from 6:30pm to 8pm. It is an ALL-YOU-CAN-EAT BUFFET with all of the traditional food and appetizers: roast turkey, mashed potatoes, gravy, stuffing, mac & cheese, green bean casserole, creamed corn, sweet potato casserole, cranberry sauce, seasonal vegetables… certainly, sweetening it all up with the yummiest apple crumble and pumpkin pie. The price of the dinner is 50 euro and it includes a drink of choice (or a bottle of wine between two tickets)! We will have a few roast turkeys for the occasion – enough to feed 40 of us. Indeed, only 40 spots available to attend the dinner. So, yes spaces for dinner are limited, bookings strongly recommended. (thanks to all who chose the Highlander for this very special event - the dinner has been already sold out - if you were intending to come anyway we will be waiting for you to join the festivities after 8pm)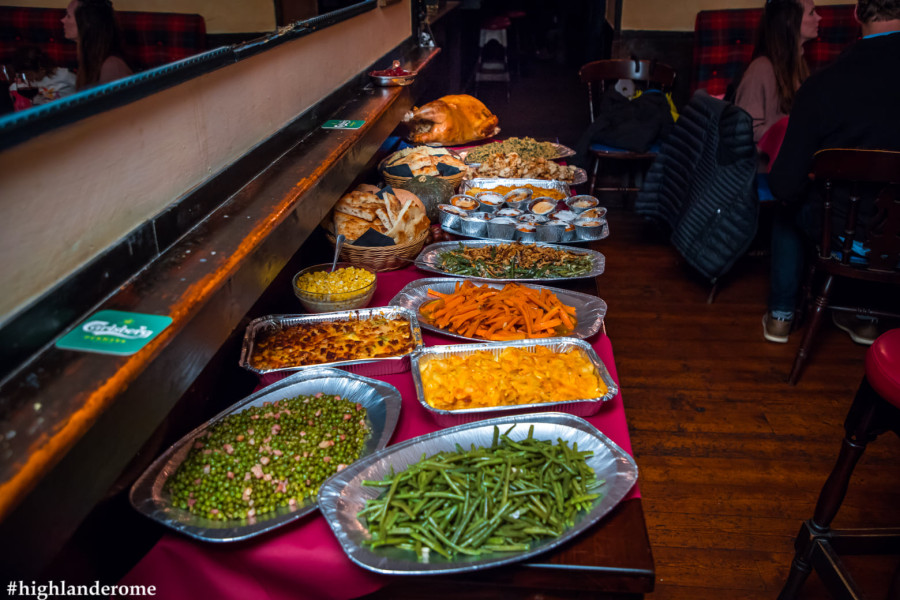 Once we clear the tables from the dinner we launch our Thanksgiving beer pong tournament - Maximum 8 teams (2 people per team ) - free to participate, you just need to provide your own beer. Winners get our special edition beer pong champion t-shirts. Karaoke session starts once the beer pong tournament is concluded. Best performers with loud ovations receive a free drink of choice! Otherwise, NFL will be on our screens from 6:30pm until we close and below is the schedule of the games:
NFL THANKSGIVING SCHEDULE


Apart from the American Football that will be featured on our screens this year there is a pretty massive coincidence with a few games from the proper football FIFA World Cup in Qatar and certainly we will be showing those as well. So, yes just in case you were wondering these World Cup games will be also televised on some of our screens simultaneously with the NFL:
Happy times are coming. And this is how we celebrated last year: