where you'll never drink alone
The Highlander is a cosy little Scottish pub located in the very heart of Rome - open 365 days a year! If you want to taste some good beer or some of the best pub food in town, support your soccer or football team playing live, or just get a little wild.... This is the place for you! To find out what's on our weekly schedule simply scroll down and click on the respective day of the week you would like to visit us!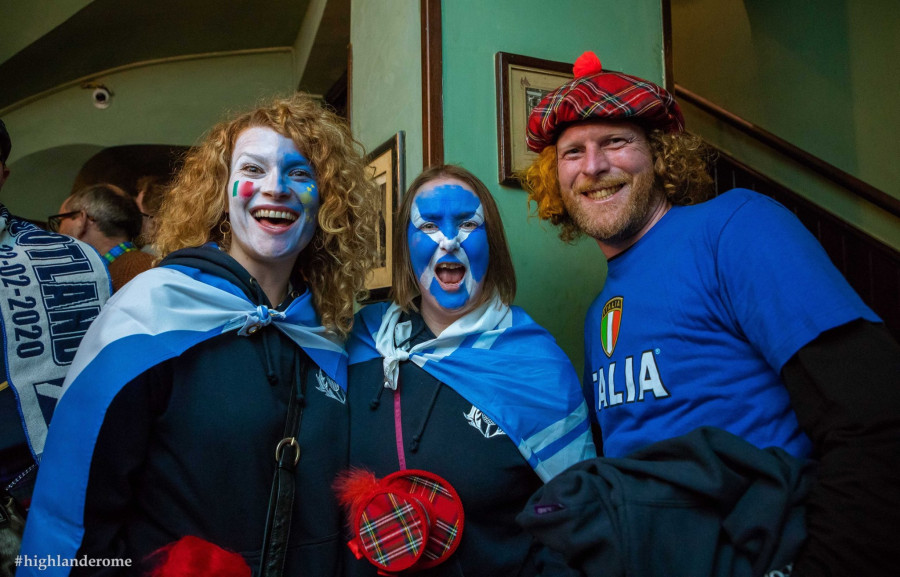 Rome's Ultimate Sports Bar
Our bar is one of the few pubs in Rome that is fully dedicated to sports. We show any imaginable sports event that is on your mind but we definitely put an accent on football! The English Premier League is fully featured together with the most important games from The Italian Serie A, The Spanish Primera Division, The German Bundesliga as well as the matches from The Champions League and The Europa League, American Football (NFL and College Football), hockey (NHL), Formula 1 and AFL (upon request) are also part of our sports schedule! We have 4 rooms entirely equipped with HD screens and you can come and support your favourite team with the commentary in the original language!  
The fans of soccer can also enjoy the games from other European and South American Championships but those usually come upon request! Rugby, basketball (NCAA College and NBA as well as Euroleague), tennis (The Grand Slam Tournaments), golf (The Masters and Ryder's Cup).
For any match or game that you don't see listed on our live sports schedule or in the other voices of the submenu you can email or call us
Music, sports and spirits
Every night of the week at The Highlander is themed with different events, offers and happy hours. We have two beer pong tables available to play pretty much every night after 11 pm. Choose your ultimate night out and book your party by sending us an email at [email protected]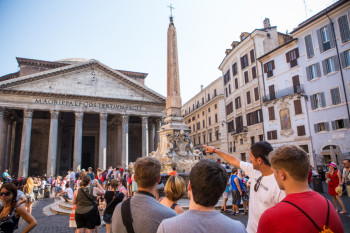 The Highlander is a proud sponsor of Rome's Ultimate Free Walking Tour. Click on the banner to read more about it!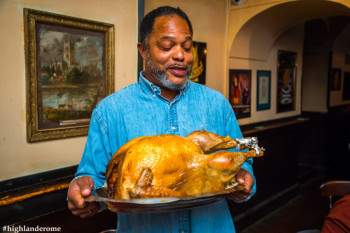 Stuffed turkey, rich traditional buffet followed by beer pong and karaoke. NFL live from dusk till dawn. Join the annual Thanksgiving celebrations in Rome.
LOCATION
Highlander Pub is open every single day of the year! Currently, we are open from 11 am till 2 am daily.
Some of our guests have a bit of a hard time finding our pub! Indeed we must admit the The Highlander Pub is quite well hidden even if it is only 5 minutes walk from famous Roman sites like Piazza di Spagna (Spanish Steps) or The Pantheon! Indeed it is one block away from Palazzo Borghese and The Italian Parliament is only a minute walk too!
Here is the best way to get to us from The Spanish Steps. Now you need to follow these verbal instructions and apply them on the little map below. So, from the Fountain in Piazza di Spagna you take Via Condotti (the famous street with fashion stores) walk all the way until you cross Via Del Corso. You will see the Fendi Store and that is where Via Condotti changes names with Via Fontanella Borghese. Keep walking straight until you reach Largo Fontanella Borghese. Go straight through the largo for another 50 meters where it touches Piazza Fontanella Borghese with the vendors of paintings and antiquities. Turn left at that corner and you will start walking on Via della Lupa. Highlander Pub will be on the right hand side of Della Lupa with the entrance in Vicolo di San Biagio, about 50 meters from the largo!