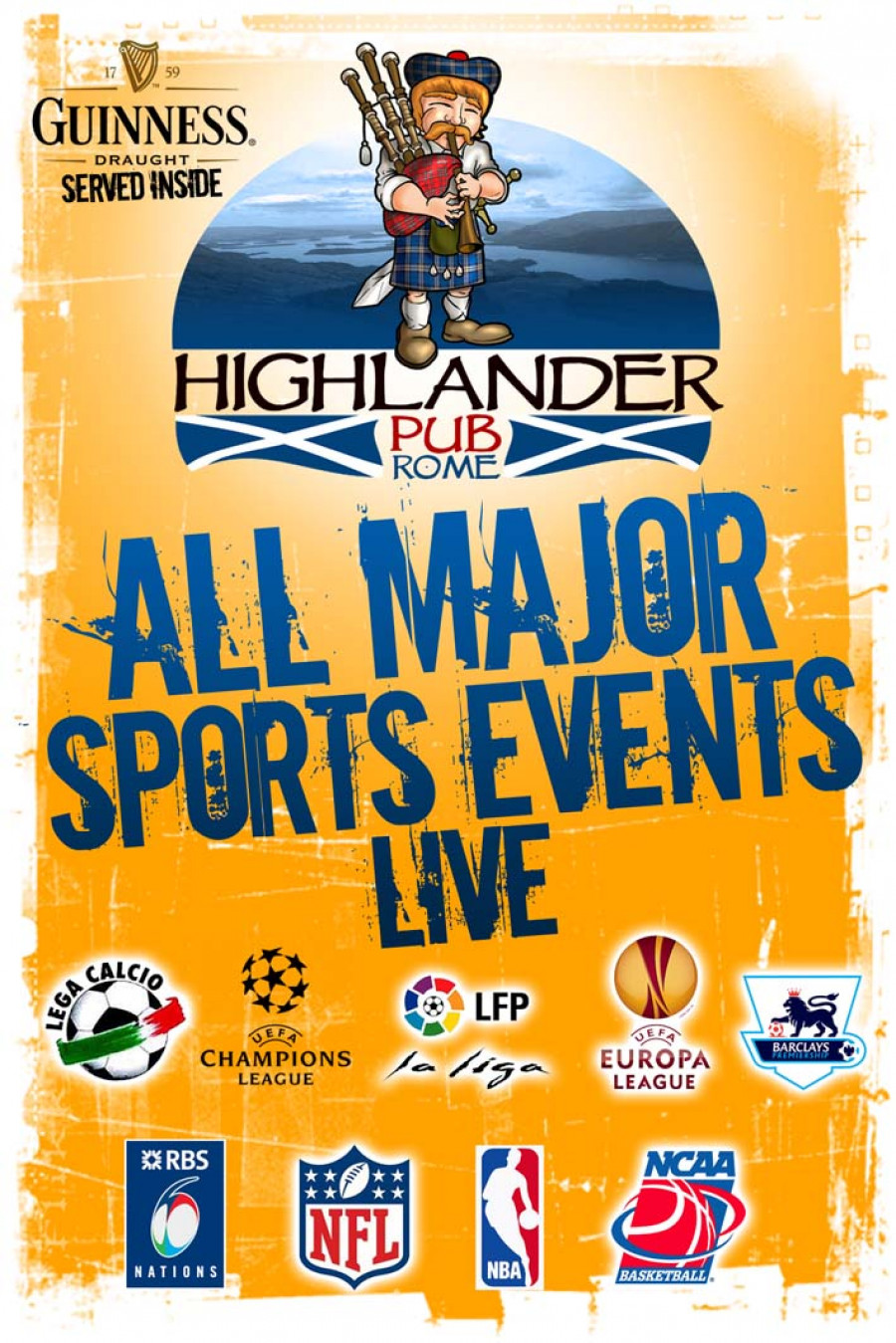 Highlander Pub is one of the few pubs in Rome that is fully dedicated to sports. We show any imaginable sports event that is on your mind but we definitely put an accent on football! The English Premier League is fully featured together with the most important games from the Italian Serie A, The Spanish Primera Division, The German Bundesliga as well as the matches from The Champions League and The Europa Leage, American Football (NFL and College Football), hockey (NHL), Formula 1 and AFL (upon request) are also part of our sports schedule! We have 4 rooms entirely equipped with HD screens and you can come and support your favourite team with the commentary in the original language!
The fans of soccer can also enjoy the games from other European and South American Championships but those usually come upon request! Rugby, basketball (NCAA College and NBA as well as Euroleague), tennis (The Grand Slam Tournaments), golf ( The Masters and Ryder's Cup).
Below is the schedule of all the football appointments for the next few days! For the rugby schedule or all the events related to the American Sports you can click on the respective voices of the submenu above!
For any match or game that you don't see listed below or in the other voices of the submenu you can email or call us. 
Tuesday, July 16th, 2019
Starting at 16:00
Netball World Cup *(Upon Request)
Starting at 20:30
Scottish League Cup
Stenhousemuir vs Dundee United *(Upon request)
Starting at 20:45
Scottish League Cup
Cowdenbeath vs Hearts *(Upon Request)
Wednesday, July 17th, 2019
Starting at 16:00
Netball World Cup *(Upon Request)
Starting at 20:45
UEFA Champions League Qualifications
Celtic vs FK Sarajevo
Starting at 21:00
CAF Africa Cup of Nations - Bronze Medal
Tunisia vs Nigeria
Thursday, July 18th, 2019
Starting at 16:00
Live Golf - 2019 Open Championship *(Upon Request)
Starting at 16:00
Netball World Cup *(Upon Request)
Starting at 18:00
UEFA Europa League Qualifications
RoPS vs Aberdeen *(Upon Request)
Friday, July 19th, 2019
Starting at 16:00
Live Golf - 2019 Open Championship *(Upon Request)

Starting at 16:00
Netball World Cup *(Upon Request)
Starting at 17:00
Currie Cup Premier Division
Griquas vs Pumas *(Upon request)
Starting at 19:15
Currie Cup Premier Division
Blue Bulls vs FS Cheetahs *(Upon Request)
Starting at 21:00
CAF Africa Cup of Nations -FINAL
Senegal vs Algeria
Saturday, July 20th, 2019
Starting at 13:30
International Champions Cup
Manchester United vs Inter Milan *(Upon request)
Starting at 17:05pm
South Africa vs Australia
Starting at 20:05pm
Argentina vs New Zealand
Sunday, July 21st, 2019
Starting at 13:30
International Champions Cup
Juventus vs Tottenham *(Upon request)