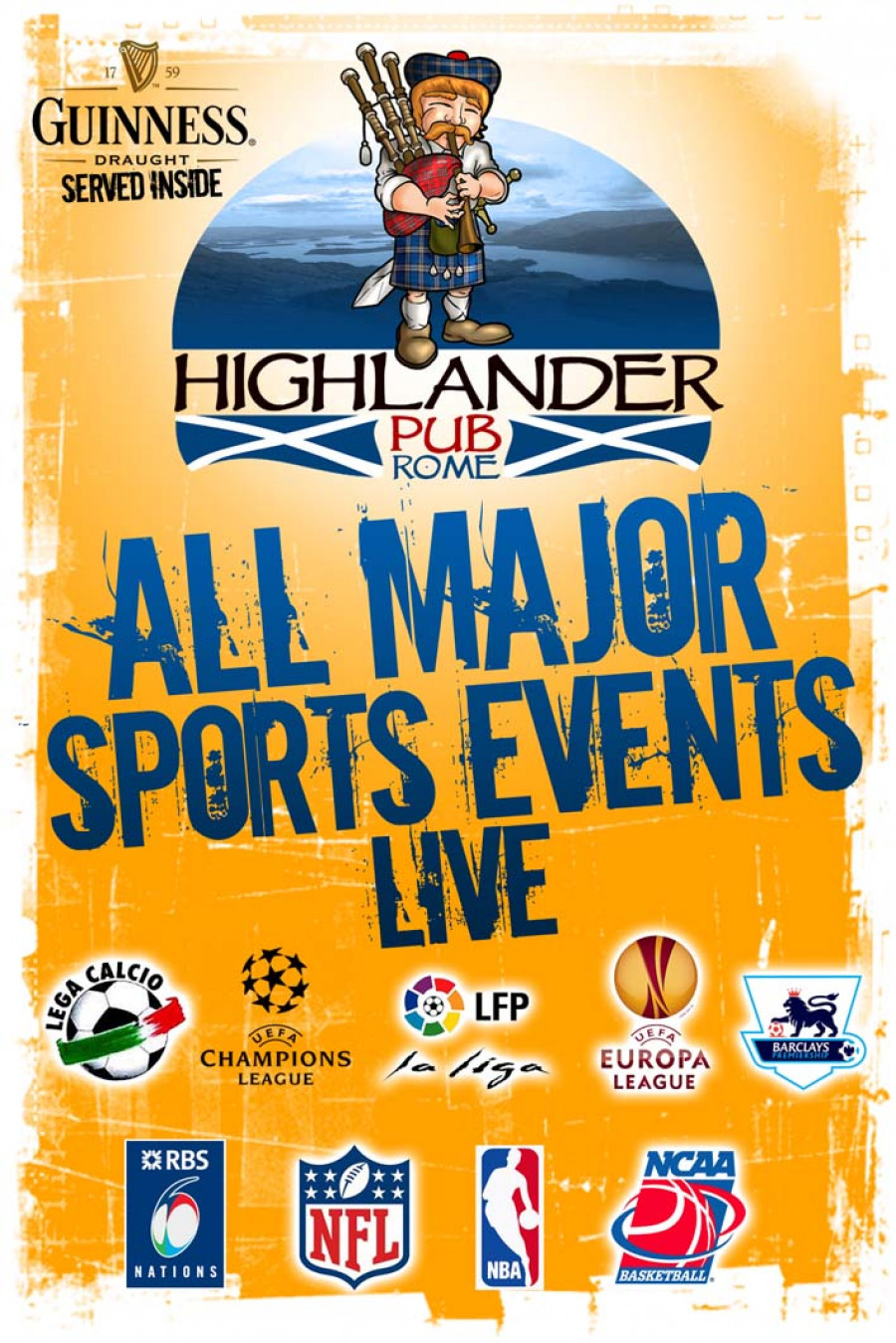 SCROLL DOWN TO SEE ALL THE MAJOR SPORTS APPOINTMENTS SCHEDULED FOR THE NEXT FEW DAYS
Highlander Pub is one of the few pubs in Rome that is fully dedicated to sports. We show any imaginable sports event that is on your mind but we definitely put an accent on football! The English Premier League is fully featured together with the most important games from the Italian Serie A, The Spanish Primera Division, The German Bundesliga as well as the matches from The Champions League and The Europa Leage, American Football (NFL and College Football), hockey (NHL), Formula 1 and AFL (upon request) are also part of our sports schedule! We have 4 rooms entirely equipped with HD screens and you can come and support your favourite team with the commentary in the original language! The fans of soccer can also enjoy the games from other European and South American Championships but those usually come upon request! Rugby, basketball (NCAA College and NBA as well as Euroleague), tennis (The Grand Slam Tournaments), golf ( The Masters and Ryder's Cup).
Below is the schedule of all the football appointments for the next few days! For the rugby schedule or all the events related to the American Sports you can click on the respective voices of the submenu above! For any match or game that you don't see listed below or in the other voices of the submenu you can email or call us. 


American Sports / Live Rugby / Champions League / Live Tennis / Rugby 6 Nations 2022 / Live Golf


Monday, May 23rd 2022
starting at 20:30
German Bundesliga
Hamburg vs Hertha Berlin
starting at 20:45
Scottish Divisional Paly-offs
St Johnstone vs Inverness CT
Wednesday, May 25th 2022
Starting at 21:00
UEFA Europa Conference League FINAL
Roma vs Feyenoord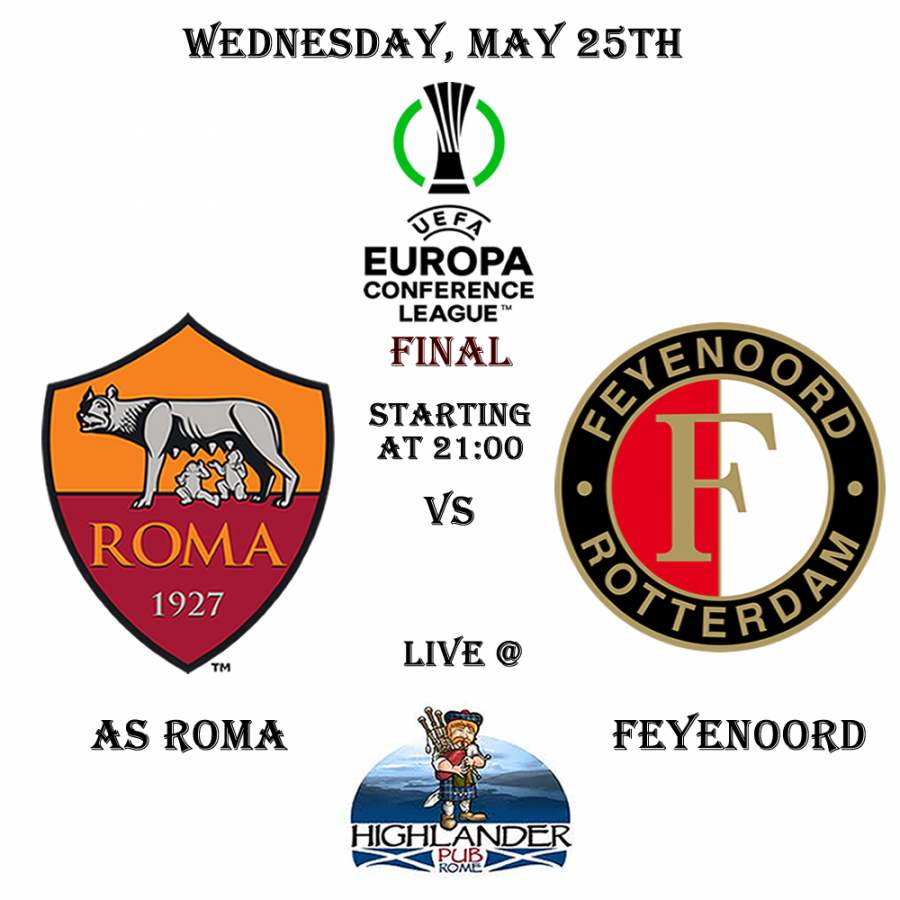 Per tutti coloro che desiderano vedere la finale di Conference League Roma-Feyenoord presso l'Highlander Pub:Le prenotazioni si accettano rigorosamente solo tramite il nostro sito. Cliccando sul bottone "book now" potete assicurarvi un posto a sedere fino ad esaurimento posti. Il costo della prenotazione è di 25 Euro a persona e include posto a sedere+ 2 consumazioni a scelta + una porzione di patatine fritte. Le prenotazioni vengono considerate tali entro le ore 20 del 25 maggio (mercoledì).
Si raccomanda quindi di arrivare all'Highlander ENTRO E NON OLTRE le ore 20 onde evitare di perdere il proprio posto a sedere
Ovviamente le 2 consumazioni e la porzione di patatine possono essere ordinate in qualsiasi momento. Cliccare sul poster sopra per andare sulla pagina delle prenotazioni.
Those of you who reserve need to be physically at the Highlander at latest by 8pm on the day of the final. The 25 Euro booking fee for a seating per person includes two pints/drinks of choice at the bar + a portion of baked potatoes. Please, be aware that after 8pm we will be working on the principle "first come, first served" and that if you book through our website and you fail to arrive by 8pm you could lose your seat but you will still be getting your two pints/drinks and the portion of chips that you have paid for. Click on the banner above to go the page where you can book.


Saturday, May 28th 2022
Starting at 21:00
UEFA Champions League FINAL
Liverpool vs Real Madrid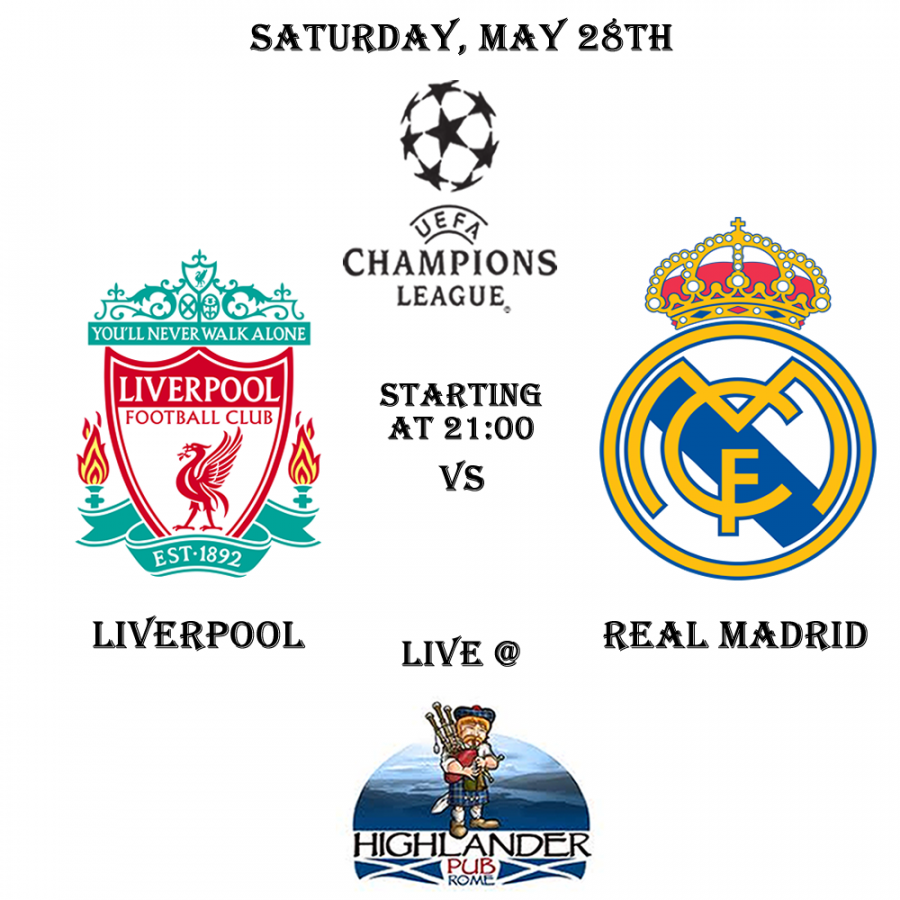 Sunday, May 29th 2022
starting at 17:30
English Championship – Promotion-play FINAL
Huddersfield Town vs Nottingham Forest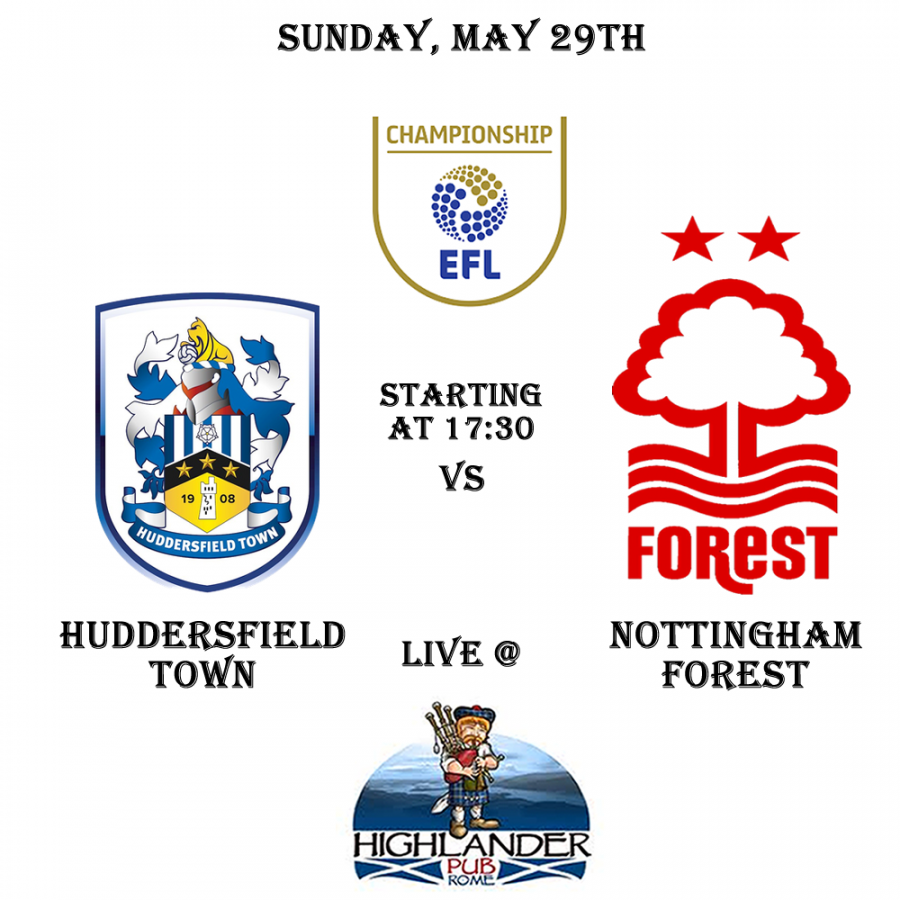 * upon request - the games that are marked "upon request" need to be requested at least a couple of hours before the start of those. Once you request them you need to be at The Highlander at least 30 minutes before kick off time (or, for the late games 30 min before our closing time)! We cannot guarantee their broadcasting on our screens if you arrive at The Highlander in the last minute before their start or even worse - when they have already started
** already requested - the games that have been "already requested" might not be necessarily televised if the people who have requested them fail to arrive 30 min prior to the start of those games (or, for the late games 30 before the closing time). Generally those games coincide with many other venues and sometimes other guests end up requesting additional events in the last minute. Certainly we accomodate them in case the customers who have made the original requests do not show up.